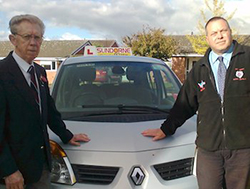 Who we are
Founded by Ray Pearce in 1982, Sundorne Driving School became one of the most successful schools in Shrewsbury, offering a professional service tailored to the individual.

Since 2005 the school has been owned and operated by Ray's son-in-law, Pete Lorrimer and his wife Helen, matching the same high standards and pass rates set by Ray himself.

If Ray taught you, then you'll know that this is a great opportunity for the next generation of drivers.
Prices
Pay as you go (1 hour)

Add an extra half hour for just £10

£23.00

Block booking of 10 hours (payable in advance and used in units of at least 1.5 hours at a time)

£200.00

For this week's special offers, why not check us out on Twitter or Facebook?
Testimonials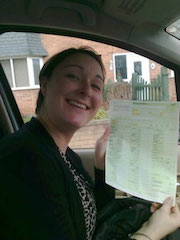 Emma Bates - Shrewsbury
'Pete believed in my abilities which in turn, gave me the confidence in myself to pass first time'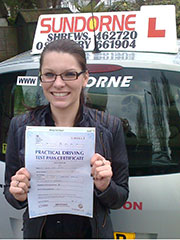 Rachael Randall - Shrewsbury
'I was very happy with the instruction from the very first lesson.'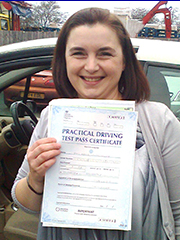 Kelly Lewry - Gobowen
'I've just done my first independant drive on my own and have to say couldn't have done it without you. Thanks Pete'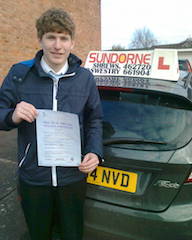 Dan Jones - Shrewsbury
'Thank you for helping me pass my driving test and good luck to you and your new car'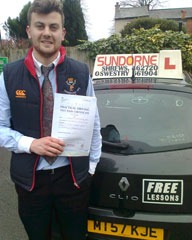 Angus Bowyer - Oswestry
'Huge thanks for getting me through my test. The rigorous and thorough approach was crucial to me passing'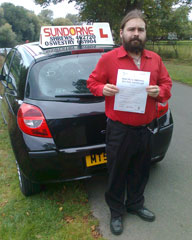 Giles Hannaford - Shrewsbury
'Took me a little longer than most, but great to pass first time'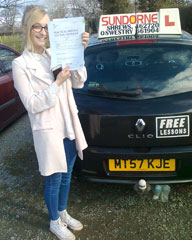 Kimberley Harley - Four Crosses
'Many thanks, could not have done it with my last 'trainee' instructor.'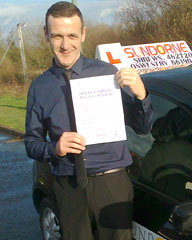 Mark Hopwood - Shrewsbury
'Thanks Pete, wish I had done it years ago, brilliant instructor made every lesson enjoyable'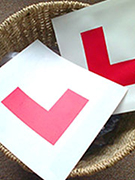 Dave Davies - "Thanks Pete – you're a legend!"
Becky - "Thanks for getting me through it first time, definitely wouldn't have done it with my previous instructor"
Anna - "I have found learning to drive with Pete very enjoyable because he is very patient and never sees a mistake as a negative. He is always praiseworthy and makes you feel calm. He is very convenient with lessons and always fits lessons in around the learner"
Just a note to say that Rachael is very happy with the instruction you have given her. You'll have gathered that from the fact she's booked more lessons. I like the sound of the methodical and critical approach. The contrast she has noticed suggests to me that previous instructors might have been a little easy going. I have every confidence you'll get her through her test successfully soon.'


Areas we cover
Baschurch | Battlefield | Bayston Hill | Belle Vue | Bicton | Bomere Heath | Bowbrook | Castlefields | Chirk | Cockshutt | Condover | Copthorne | Coton Hill | Ditherington | Dudleston Heath | Ellesmere | Four Crosses | Gobowen | Harlescott | Harmer Hill | Llancylls | Llanyymynech | Maesbury | Meole Brace | Monkmoor | Montford Bridge | Morda | Mount Pleasant | Myddle | Nesscliffe | Oswestry | Overton | Pant | Pentre | Queens Head | Radbrook | Rednall | Ruabon | Ruyton | Selattyn | Shelton | Shrewsbury College of Arts and Technical | Shrewsbury 6th Form College | Shrewsbury | Shrewsbury College | Shrewsbury Technical College | St. Martins | Sundorne | Sutton Farm | Treflach | Trefonen | Walford College | Welshampton | Whittington |
The car / classroom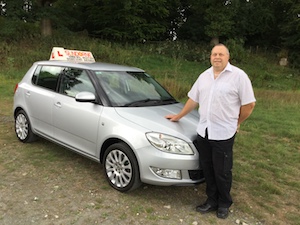 We are proud to announce the arrival of our new car - the Renault Clio 3 Manual 1.5 diesel. This car not only looks great, it's also a typical first-time buyers car and offers the following features:
Fully adjustable seat and controls to fit the smallest and the tallest of pupils

An impressive, spacious cabin which offers good head, leg and elbow room

Simple/uncluttered dashboard with attractive, logical controls

Superb all-round vision

Additional cornering lights for extra night-time vision

Alloy wheels - way cooler than the standard wheels!

5 star Euro NCAP safety rating
Contact us
Sundorne Driving School Head Office
30 Meadow Way, Gobowen, Oswestry SY11 3LY

Mobile: 07854 735980 Tel: 01691 661904

peter@sundorne_driving_school.co.uk

Or visit us on Facebook or Twitter

Back To Top